START A FIRE IN THE NATION!
This last Christmas a dear friend of mine gave me a copy of the 400th Anniversary Edition of the Geneva Bible. I was delighted. It is a great treasure.
When this Bible was printed in 1599 and, for the first time, got into the hands of the common people, it impacted England, Scotland and ultimately America. England was in a barbaric state at the time that this Bible became available. The people were discouraged and downtrodden, but as the Word of God penetrated into their hearts, their minds and behavior changed. Only 28 years after the first printing, it was already being said that the English were become a "people of the Book."
Dr. Marshall Foster, Founder and President of The Mayflower Institute says, "It is no exaggeration to say that the Geneva Bible was the central catalyst that catapulted England, Scotland and America out of slavish feudalism to the heights of Christian civilization." It spread the blessings of self-government, free enterprise, education, virtue, protection of women and children and godly culture. It released a great missionary movement, economic blessings and political and religious freedom.
We have now had the Word of God in our hands for just over 400 years. Most homes have more than one Bible. We have over 30 Bibles (including different translations) in our home. The Gideon's International have placed a Bible in every motel and hotel in the nation. Yet now, instead of seeing an increase in godliness because of the blessing of having God's Word so freely available to us, we are seeing a decline in godly virtues. The current thinking, even in much of the church, is humanistic rather than godly. How can this be? Is it because, although we have the Word of God, we no longer read it?
People go to church to hear the Word of God, although, strangely enough, they may not always hear it today. Recently, I was at a friend's home and listened to a popular preacher on TV who has about 30,000 in his church. He did not hold a Bible in his hand and did not mention the Bible. He gave a brilliant motivational speech, but that's all it was.
In spite of this, it's not church we should be relying upon. It is the home. It's what happens at home that influences our children and consequently the nation. I believe we need to get back to reading the Bible and praying together as a family in our homes. This should be the No. 1 priority of every day. It should be more important than schooling, sports and all the extracurricular activities that monopolize our lives today.
I was most interested to read in my new Geneva Bible A Form of Prayer to be used in Private Houses Every MORNING AND EVENING. The morning and evening prayer were written as a guide for families praying in their homes together. These prayers were not little "bless me" prayers, but of some length. It takes to read the Morning Prayer and to read the Evening Prayer.
My earnest cry is that families will come back to the foundation of blessing for their homes and ultimately the nation. This foundation is the Biblical principle of the morning and evening Family Altar. It is a principle God ordained back in the time of the tabernacle in the wilderness. The priests were ordained to keep the fire on the altar burning continually. God commanded them, "It must never go out." What was the secret to keep it burning? They had to clean out the ashes and add more wood to the fire every morning and every evening. This way it would keep burning. The fire would soon die out without wood. This speaks of partaking of the fresh manna of the Word of God. Once a day is not enough to keep the fire burning in our hearts and in our families. We need it night and morning.
But there was more. The priests also had to keep the lamps in the menorah burning continually. How did they do this? By trimming the wicks and pouring in the olive oil every morning and every evening. We need to come together as a family in prayer, evening and morning, to cry out for His wisdom and anointing. The oil speaks of the Holy Spirit. Oh how we need to be continually filled with His Spirit to keep God's love and presence filling our home. We also need the anointing of the Holy Spirit to illuminate the Word of God to us.
Each week certain priests baked 12 loaves of bread, one to represent a tribe of Israel. The loaves (which speak of God's sustaining and living Word) were placed on the Table of Shewbread which was on the right-hand side arm of the cross (the tabernacle was in the shape of a cross) and the menorah, the seven-branched candlestick was on the left. The light of the menorah shone upon the bread, reminding us how the Holy Spirit is the one who reveals the Word to us.
The priests also had to burn incense every evening and morning. Incense speaks of prayer, intercession, praise and worship. In Revelation 8:3 we read that "there was given unto him (the angel) much incense that he should offer it with the prayers of all saints upon the golden altar which was before the throne." The incense was offered upon an altar which speaks of sacrifice. I know, it can seem a sacrifice to put aside time every morning and evening to pray together as a family, but the outcome of not praying is a greater sacrifice.
I believe that prayer is the greatest lack in our homes today. It is the weak spot. It is a crack in the foundation. Jesus said, "My house shall be called the house of prayer." (Matthew 21:13) Do our homes really belong to God? If it is truly God's house, it will be a house of prayer. Would you consider your home a home of prayer? Prayer should be a spontaneous part of our lives throughout the day. However, it is also most important to establish set times.
Without the daily revelation of the Word of God, we tend toward humanistic thinking. Isaiah 55:8-9 tells us that our thoughts are not God's thoughts. His ways are higher than our thoughts and ways. If we do not constantly seek His mind and His thoughts, we'll naturally turn to a wrong path. I find that I need the Word of God daily to keep me in line.
How can I manage this in our home, you ask? Life is so busy. We have so much going on. Everyone is going here and there. Yes, it will turn your family life around. It will take sacrifice. You will have to change your lifestyle. You will have to cut out things that you think are important. But they are not as important as making God the priority in your home. They are not as important as keeping the fire burning in your hearts and in the hearts of your children. They are not as important as keeping the oil of the Holy Spirit filling your hearts. They are not as important as keeping the incense burning with prayer and supplication and filling your home with that beautiful sweet aroma. Every evening and morning the priests also had to sacrifice a lamb on the altar. Sacrifice will be necessary.
I wonder how long we will continue as Christian families in our whirlwind of activities. Sports, lessons, education and entertainment all seem more important than the principle God has established for us. I believe that if every family who owns the name of God would come back to this foundation in their homes, we could see a turn in the nation. While we put everything else before this, we show by our actions that God is well down on the list in our lives. We show to our children that God does not have first place in our hearts or in our homes. We are hypocrites before our children. We say He is Lord of our lives but we don't even have time to spend twice a day in His presence, calling out to Him and listening to His counsel.
Maybe it seems too overwhelming for you to change so much all at once. Why not start with getting together at least once a day. Perhaps the best time is at the end of the evening meal. Make it a habit to gather the whole family together at the end of each day, putting aside all other activities and functions. At the end of the evening meal together, open the Word of God and then pray together. Because we are busy in the morning and everyone has to get to their various jobs, Colin, my husband, reads the Word of God to us and prays. However, in the evening we take more time. Our reading is not too long, but we talk about it and Colin asks questions. We then pray around the table, every person praying. We often have up to 10 – 12 sitting around our table so this sure makes a good prayer meeting. We pray for current needs but also for the nation, for Israel, for the persecuted church and others nations God puts upon our hearts.
Imagine if every God-fearing family began to pray together for their nation at the end of every meal! What a mighty power of incense going up before the Throne. This will not only keep the fire of God burning in our families, but it will start a fire in the nation as well. E. M. Bounds writes, "How we estimate and place prayer is how we estimate and place God. To give prayer a secondary place is to make God secondary in life's affairs…" It is families who will bring God back to our nation; families who know what God says in His Word rather than being influenced by the humanistic thinking of our day; families who know how to pray the fire of God into their souls and back into the nation. And please do not despise the prayers of the little children. Let not one child be left out as you pray around the table. God hears the prayers of little children, no matter how feeble.
Recently I read in Exodus 25:30, "You shall set the bread of the Presence on the table before Me at all times." So now I have placed a large Bible with big print in the center of our dining room table with two candles either side so that I can have the bread (the Word of God) continually on the table. It looks beautiful, but it also adds a special atmosphere to the dining room. And every time I pass I can gather a little sustenance.
May you be known as a family "of the Book" and may we as a nation be known as "the people of the Book."
NANCY CAMPBELL, Editress of Above Rubies
Read more about the Evening and Morning principle:
KEEP THE FIRE BURNING - Leviticus 6:8-13
KEEP THE LIGHT BURNING -- Exodus 27:20-21
KEEP THE INCENSE BURNING – Exodus 30:7-9
THE EVENING AND MORNING SACRIFICE – Exodus 29:38-42

To see and read more about the power of the Family Altar, you can order…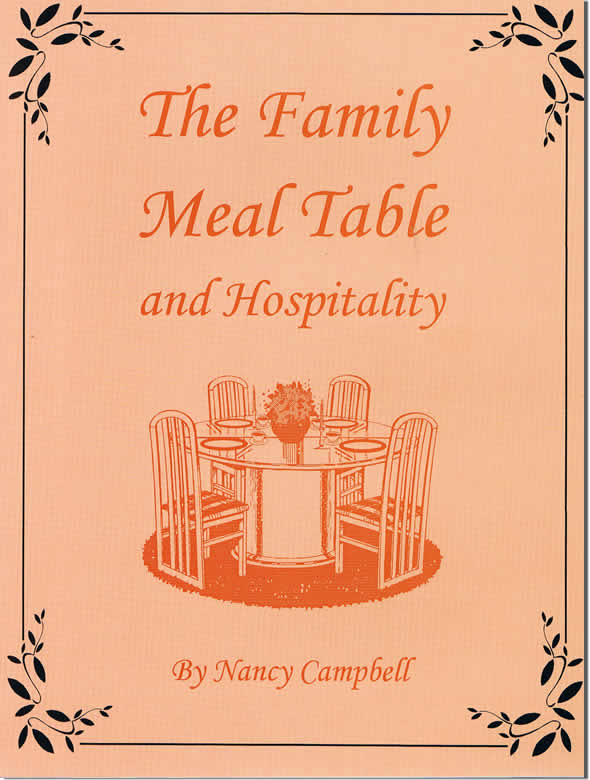 What the Bible says about your Table!
Prepared by Nancy Campbell
Capture The Vision...
This manual will give you a vision for your family meal table far beyond what you have ever dreamed. Filled with Scriptural inspiration and creative ideas for your family mealtimes.
35 chapters filled with scriptural inspiration and creative ideas for your family mealtimes and hospitality.
With discussion questions for personal meditation or group discussion in a Bible Study group, this manual is a "must" for every family.
"What a treasure of love and information is wrapped in its pages."

"Thank you for writing this book. I didn't realize how wonderful it would be!"

"Before I got married I told to my husband that I will marry him under two conditions: to have our meals around the table and have daily devotionals. So you can imagine how I felt watching your DVD after 11 years of marriage. I was crying. My husband was crying. Every word you said is just so inspiring and full of meaning. "
Order Your copy today for only $20.00 (plus shipping), uncover the blessings you'll find in God's Word about hospitality and family fellowship.

Greater Savings When You Buy In Bulk
For those of you who would like to order enough copies for a small home group or bible study, you can get great discounts by ordering in bulk:
If you order 2-9 manuals you'll save 20%.
Order 10 or more manuals you'll save 40%.